There is a popular expression in Brazil
"If the father is 60 and below, the son is his; after 60years old, the son belongs to Catuaba."
No, Catuaba is not a fertility god, Catuaba is actually a small, flowering tree that's native to the Amazon. Among the trees used for Catuaba (a tribal word meaning "what gives strength to the Indian") are Erythroxylum caatingae, Trichilia catigua, Anemopaegma arvense, and Micropholis caudata. Hundreds of years ago, Brazil's native Tupi tribe discovered that Catuaba bark has aphrodisiac qualities.  Drinking Catuaba tea to spawn erotic dreams and boost libido became a part of their culture.
Now, Catuaba is one of the most popular Amazonian aphrodisiac plants in the world and is included in many male enhancement formulas.
Within Brazilian herbal medicine, Catuaba bark is categorized as a stimulant and is even related to the coca plant. But, you can relax. Catuaba doesn't contain any of the alkaloids found in cocaine. Catuaba bark does contain, however, three specific alkaloids believed to support a healthy libido. Some Catuaba even contains yohimbine, another natural aphrodisiac.
Research involving animal models has shown that the Catuaba bark may enhance erectile strength by widening blood vessels, allowing more blood to flow to the penis. Catuaba may even have some neurological benefits due to its antioxidant content. It's been observed to increase the brain's sensitivity to dopamine, which makes sex more pleasurable.
Supplementing with Catuaba Bark. A downswing in sexual energy can happen for a number of reasons: a lack of physical fitness, medications, and the age-related symptoms of andropause.
Catuaba bark has been used by many men across the world to rejuvenate their libido and desires and is not associated with adverse health effects. Oddly enough, while some herbal aphrodisiacs are gender-specific, women too may experience the aphrodisiac benefits of Catuaba bark.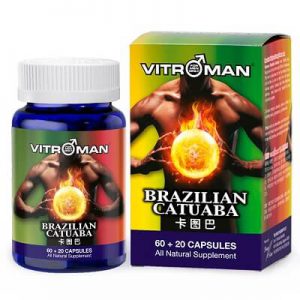 Vitroman Brazilian Catuaba contains a Brazilian herb that is known as an herbal supplement deriving from a small tree native to the Brazilian landscape. It has yellow and orange flowers and bears an oval-shaped, yellowish-brown fruit. Its bark is well known for its uncommon antiviral and antibacterial qualities.
Brazilian herbalists believe that the composition or color of a fruit or herb, or the color of its extract, indicates the organ upon which it operates — the organ to be cured or remedied. The extract of Catuaba bark is red, which links it to the blood, liver, and circulatory system.
Effect:
Help achieves erection & increase desire.
Regains lost sexual function.

Stimulates central nervous, boosts energy level.

Control pain & fights fatigue.

Anti-depression, anti-anxiety, improve good mood.

Provides energy & immune support.
You can purchase from here -> Vitroman.com